New York Parish Safety and Security Training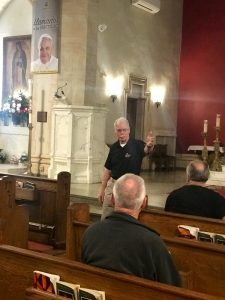 JULY 24, 2018
This year, Ratio Risk and our partner Synergy brought parish training to several parishes within the Archdiocese of New York, including Yonkers, New Rochelle, and Staten Island.
Workshops focused on better securing parish buildings for emergency situations, including active shooter response training. Working with parish clergy, staff, religious education directors, and volunteers, instructors provided practical information and hands-on training to help parishes develop emergency plans and procedures.
Topics covered included how to conduct a safety assessment, creating a safety committee, and identifying potential issues within the church community. Safety training is based on Department of Homeland Security's recommendations, as well as best practices developed from years of working with houses of worship.
Active shooter training, conducted by SWAT personnel at Synergy, included drills to enhance critical thinking skills and emergency response time. Instructors guided parishioners on how to best lockdown and secure church rooms, safely evacuate church buildings, and defend themselves as a last resort.
Learn more about our safety and security trainings or contact us for more information.