Active Shooter Trainings with the Archdiocese of New York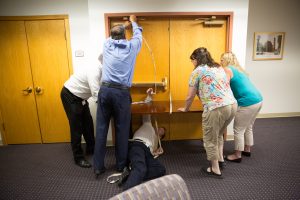 JULY 18, 2018
This spring, Ratio Risk, in conjunction with the Archdiocese of New York, partnered with Synergy 911 to bring comprehensive, hands-on active shooter training to 152 schools across New York, including Manhattan, the Bronx, Staten Island, Yonkers, Tarrytown, Middletown, Pelham, Scarsdale, Yorktown Heights, Hopewell Junction, Port Chester, and Pearl River.
Training, conducted with school administrators, teachers, and staff, focused on emergency preparedness for active shooter incidents, with an emphasis on developing critical thinking skills and stress response. Synergy's active duty SWAT personnel taught educators how to efficiently lockdown and barricade classrooms, when and how to evacuate buildings, and provided personalized solutions on how to better secure school infrastructure. Working with the Archdiocese of New York and local precinct officers, Synergy began a dialogue on best practices for systemic emergency response in New York Catholic schools.
Learn more about Ratio Risk's active shooter training program and contact us for further information about our services and publications.